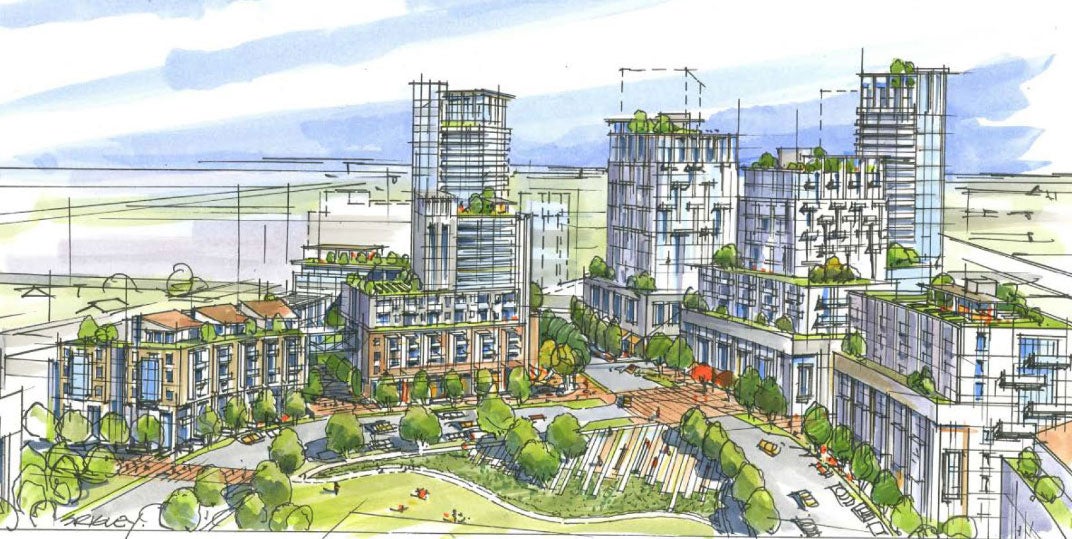 Developer Grosvenor is making more inroads into development in Metro Vancouver, with the acquisition of the former Oakridge Transit Centre site on West 41st near Oak Street.
The 14-acre site was acquired from Modern Green Canada, 
who originally bought the site from TransLink in 2016
. Transca Development will partner with Grosvenor on the development, with the two companies already having a history of working together on highrise communities in Burnaby, and Modern Green Canada, now known as MOMC Canada, will remain as a capital partner.
The plan is to follow the master plan previously designed by Vancouver-based architect James KM Cheng, and approved by the City of Vancouver in 2020. That plan includes a total of 1.5 million square feet of development with approximately 17 buildings ranging from four to 26 storeys, and 1,630 units — including strata, market rental, affordable rental and social housing.

More than 20 per cent of the homes will be designated as affordable housing, and a new childcare facility will be part of the development. There will be shops and commercial space running parallel to Oak Street and a two-acre public park."This is a unique opportunity to acquire and develop a rarely available development site, one of the most significant in Vancouver," says Michael Ward, senior vice-president and general manager of Grosvenor's Vancouver office. "The acquisition allows Grosvenor to utilize our expertise in building exceptional communities and bring a significant amount of new housing, both market and non-market, new retail, community amenities and public realm benefits to the Oakridge neighbourhood. 
We look forward to building an integrated, sustainable and high-quality community at this prime Vancouver location."Architect James Cheng says the vision for the former Oakridge Transit Centre is to create a community around a park, a finely-scaled neighbourhood with "gentle density" and an internal greenway system that will provide a calm, healthy central hub for residents and the neighbourhood."This is an incredible site at the heart of Vancouver that will become a serene, walkable, self-sustaining community with significant green space. 
This project is all about connecting to nature, with greenways, green roofs and a major publicly-accessible park – all designed for a sustainable, walkable lifestyle in a safe, central location that is close to everything."In addition to a 69-space daycare facility, retail, park and public plazas, Grosvenor will deliver over 180 market rental, 45 moderate income housing units and 175 social housing units. 
This is in addition to the 1,120 residential strata homes and 24,000 square feet of commercial space. The project is multi-phased with a roughly ten-year timeline to full buildout.The project will meet the developer's net zero carbon goal, as well as LEED Gold certification, and include strategies like green roofs, infiltration and planting zones and rain gardens to manage rainwater.
This is the second major mixed-use development announcement this year by Grosvenor. Earlier this spring, the company unveiled its master plan for a major 7.9-acre, 
pedestrian-focused development
 in Burnaby with more than 3,500 homes across from Brentwood Town Centre.Grosvenor is now moving forward with Development Permit applications to the City of Vancouver for various phases, with construction likely to begin in 2025.
Source: https://www.urbanyvr.com/grosvenor-oakridge-transit-centre/